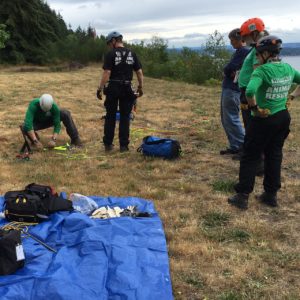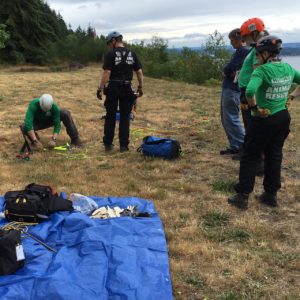 July 8, 2016
We were requested on Vashon Island today for a dog who had fallen over an embankment a few days ago after being frightened by fireworks. (The following is a fairly detailed account of our response, but the summary is we did not find the missing dog.)
We met up with fellow nonprofit Vashon Island Pet Protectors after noon, who, among other things, is a network of volunteers dedicated to re-uniting lost and found companion animals with their owners. They've been looking for the dog, Tumble, since he disappeared. We don't normally do searches, but this was a very limited area and the dog had certainly gone over in that location, so we deployed to clear an area that was too dangerous to search without technical experience and tools.
The embankment overlooked the water and thick vegetation. The home owner, who let us work on the property even though it was not their dog, marked the spot where the dog had disappeared on the night it happened. This was quick thinking on their part and we are very appreciative. We could see where the dog had broken brush going down.
While we were figuring things out, VIPP had sent out a call for help and gotten together an impressive group of volunteers. These included people standing by to help haul should we find the dog and need help and small collection of amazing first responders with Seattle Fire, including some with technical experience.
We felt it was best to send a responder over the edge and follow the trail of broken salal, blackberries, and nettles as far as he could. There were no good places to attach ropes near where we needed them, so we set up some pickets using two sets of four foot long spikes we carry with us in the truck.
Responder Aaron went over with a machete and a long-sleeved shirt. About 60 feet down he found the bandana the Tumble was wearing. He pocketed this to return to the owner. Once the ground leveled out, he followed the leveled out area. The terrain became manageable with deer trails crisscrossing the hillside.
Unless we have a reason to have someone alone, such as one person attached to a rope over a cliff, we keep people paired up for safety. Aaron was off the ropes by now since the terrain was safe to explore without them, so we sent responder Jeff over the edge next. Jeff would be a second set of eyes as well as Aaron's second person.
Meanwhile, Seattle Fire responder, Marci, had joined our team and was a welcome addition, helping coordinate and communicate with Aaron. A couple of fire responders, Janet and Annie, had gone down another route to try to meet up with Jeff and Aaron. Once Jeff was also off rope, most of the remaining volunteers drove to a trailhead for a path that wound parallel to the embankment. They would meet up with Aaron and Jeff and head back up.
We did not find Tumble, but we hope we've set his owner's mind at ease knowing he wasn't in the technical area they hadn't been able to search. VIPP will continue to search the area between the embankment and the beach as well as other parts of Vashon they are familiar with and we wish them the best of luck.
We appreciated being welcomed by the tight-knit Vashon Island community for our day in their area, and for meeting the dedicated folks of VIPP. We also thank the Seattle Fire personnel who came out on their own time to help out.