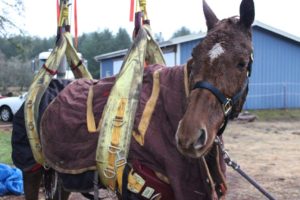 On Saturday, December 7, we were called to assist in raising a horse who was down and could not stand. A woman had rescued the horses only a couple of days before from a situation where neither horse was getting enough to eat. Both horses were thin, but one was much more so with ribs and hips clearly visible where they shouldn't be. A couple days after getting the horses, the thinner one, an 18 year old Thoroughbred gelding named Anakin, was down and could not stand. This is a bad position for a horse to be in, as laying down for long periods risks blood clots in the legs and can cause stroke or death.
We were already somewhat nearby on an assessment for another callout, so the responders agreed to divert to Winlock to see if they could help. The team, with the help of neighbors, the Becker sling and the Häst tripod, was able to get the horse up and standing on his own. Because a horse being unable to stand is often because of a serious issue resulting in euthanization, we are guarded in our expectations. Anakin gained his feet and was able to stand on his own, so the responders packed up and left. Anakin was checked out by a vet.
On Monday, Anakin was down again, so we returned to Winlock. First we attempted to roll him, as that will often give a horse a chance to stand if the side he is down on was weak. After this was unsuccessful, the team set up the tripod and pulled out the sling again. We were able to raise him, and he stood. Sometimes in these cases, it's clear the horse is tired and has given up. This was not the case with Anakin.
We swapped out horse blankets and added some extras. The starvation meant he had no insulation to keep warm. We paused before taking down the tripod as Anakin was unrigged from the sling and walked around. The owners and neighbors continued to walk him as their trailer was prepared. A neighbor down the street had an arena he could stay the night in and then he'd be sent to Save a Forgotten Equine (S.A.F.E.), up in Woodinville. S.A.F.E. has accepted him into their rescue. They'll be working on rehabilitating him.
A big thanks go to the caring person who rescued him, her friend who found him in that situation, Valhalla Canine Rescue (who live just down the street and were there to help haul lines), and S.A.F.E.