Many of the committees use Dropbox to store and share information. WASART currently has a plan that allows us to store up to 2TB (terabytes) of information.
Each committee has its own folders that can be shared with committee members. They then access the contents of that shared folder using their own personal Dropbox account. This is done by having someone use the WASART Dropbox account "invite" individuals to the shared folder, at which point they either login with their existing Dropbox account, or create a new one, to accept the invitation.
Because individual "free" plans are limited to 2GB (gigabytes), individual committees with large amounts of data in Dropbox are tasked with maintaining two separate folders:
WASART-CommitteeName
WASART-CommitteeName-Archive
The intent is that all current and active work would be done in the first, allowing all committee members to access the folder, while moving archived information into the second that would not need to be shared by all.
Dropbox full
Even though WASART has terabytes of storage available via its account, sharing a folder does not raise the storage limit of those it's shared with. Dropbox free accounts are limited, by default, to 2GB (gigabytes — 1/1000th of a terabyte). If a folder shared with you exceeds 2GB in size(1), and you have a free account, your account's capacity will have been exceeded and you'll get the dreaded "Dropbox full" message, and it'll stop synchronizing.
There are 4 solutions:
Upgrade to Dropbox Plus. This is not required, as it costs you money, but it is by far the easiest solution, and probably the most common. This raises your storage to 2TB. Since so many of us use Dropbox for other reasons in addition to WASART many of us have Plus (or better) accounts.
If you can work with small(ish) storage increases over time, login to your Dropbox account online, visit the referrals page (dropbox.com/referrals), click on the Copy link button, and then paste that into an email to Leo. This can grow the amount of storage in your free personal account up to 30GB.(2)
Use a WASART-provided Dropbox account instead of your own. This actually costs WASART some incremental money per user. If you use Dropbox yourself this may be impractical: it is separate from your own Dropbox account, and you can use only one at a time, and can install only one on your computer.
Request to be removed from the WASART shared folder that's using up all the space. This really only works if you don't normally work on, look at, or otherwise interact with the files in the WASART folder. You'll need to get public links from other team members to see individual files.
Let Leo know if you have any questions.
Sharing links to things in Dropbox
Right-click (in Windows File Explorer), CMD-Click or Right-click (Mac Finder) on the file or folder in DropBox that you want to share with those outside WASART.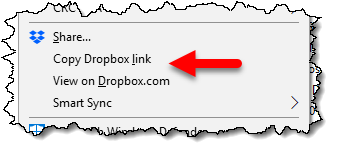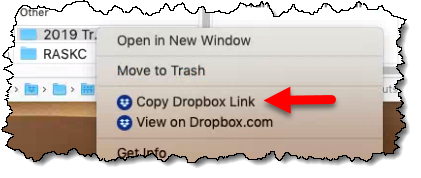 Click on Copy Dropbox Link (ignore any menu item labeled "Share") and a link will be placed in the clipboard that you can then paste into email or wherever.
If you're using the Dropbox website just click the Share button to the right of the item you want to share.

If you're sharing a folder you'll likely get a message that all you can share is a link.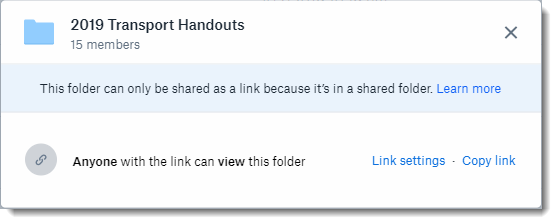 Click Copy link to copy the the link the clipboard.
If you're sharing a specific file you'll get a more complex message listing others who already have access to the file.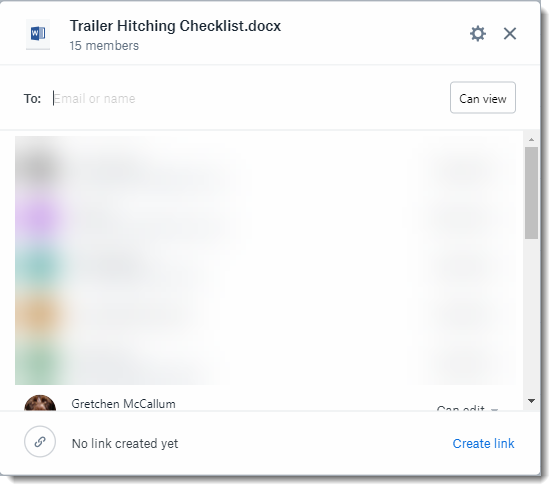 Ignore all that, do not add anyone to the "To:" line, just click the Create link link at the bottom. That'll then change to "Copy link" that you can click to copy the link the clipboard.
Using the link
When people click this link it'll take them to Dropbox on the web where they can download the content, or open on the web. If you end up changing the file(s) you're pointing to you don't need a new link, the link will always point to the most recent version.
Important: Anyone with this link — meaning the general public — will be able to view whatever it is you've linked to. They cannot modify files. They do not need a Dropbox account of their own.
The link will take WASART members that already have access to the file in Dropbox to the website where they can login to their Dropbox account if they like. If they do the link will take them to the file wherever it may be in their own Dropbox account. Whether or not they can modify the file(s) will depend on the level of access they've been given. If they choose not to login they'll get view-only access just like the general public.
Do Not share links from your web browser's address bar — these are generally unique to you and will not work for others. Be sure to share the links generated using the process above.
Administrivia
Dropbox has an online recycle bin, so accidentally deleted files can often be recovered, but this must happen within 30 days of the deletion. After that deleted files may be lost permanently.
We do have an additional weekly backup happening in parallel, which we'll plan to keep for at least six months. It's less convenient, but a safety net.
---
Footnotes
(1) Actually if the combination of that shared folder plus whatever else you might be using Dropbox for yourself exceeds 2GB.
(2) I update the Dropbox link used by Ask Leo! articles to use your referral code. Then when Ask Leo! readers sign up for Dropbox you get the credit. This can take some time, depending on publication schedules, and can work for only one account at a time.