December 28, 2015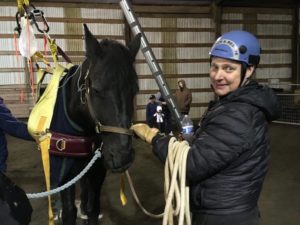 On December 22, we received a call about a Friesian gelding who was down in his stall and could not get up so we sent nine responders to the location in Snohomish, WA to assist with getting him to his feet.
The horse, a 20 year old named Lars East (there is another Lars in the barn named Lars West), had some arthritis in his hips and couldn't make it up. He was trying. He rolled over and made other attempts but could never quite gain his feet. The vet, Dr. Haffner of Emerald Equine Services in Snohomish, WA, was providing medical care, giving him IV fluids and sedatives to keep him calm while we waited for the equipment truck to make it through rush hour traffic from Enumclaw.
Additionally, two more of our responders who also volunteer with a King County Search and Rescue unit were just finishing up rescuing some hikers up on Snoqualmie Pass so they drove straight over to help. It's a busy time of year for search and rescue and they are two of our best horse people so we were very happy to have them.
The ceiling on the stall was too short to set up the tripod so we decided to put him on the Rescue Glide and move him to the arena next to the barn. There, half the team worked on setting up the tripod while the other half moved Lars onto the glide and safely strapped him in. There was some concern about getting him out the stall entrance. Friesians are large horses, built to pull carts and other loads, and the entrance is designed with enough width to walk a horse into the stall, not to pull one out on his side. To add to the challenge, because his back end was the issue, we weren't sure we could tuck his back legs tightly enough into his body to get him out.
We knew we'd be using the Becker Sling to lift him so we used its straps to move him onto the glide. This involves sliding an especially designed flat piece of metal under the horse, attaching the straps to it and pulling them through. Then responders pulled him via the straps onto the glide. After some adjustments and for safety concerns, we put hobbles on all four legs . They barely fit because his pasterns were large but we managed it. Usually, once hobbles are on to control the legs, we attach a rope and pull the legs in tight to the body. In this case, trying to tuck in the back legs seemed to cause discomfort so we kept the back legs straight and decided to slide the glide out as you would move a couch around a corner — a little out, then readjust the angle to clear the legs. This ended up working well. We had some help from people in the barn which was gratefully accepted. The more hands, the easier the work in cases like this. A responder also held his head up so it would not touch the ground during the transfer .
Once in the arena, we slid him under the tripod, finished rigging the Becker Sling and pulled him to his feet using a 9:1 system. This is always the moment of truth for cast horses. Sometimes they are unable to stand because there is an issue with their spine and their legs don't respond or some other medical reason. Fortunately for Lars, he was able to stand on his own. Dr. Haffner gave him more fluids, and we kept Lars rigged for a bit longer to make sure he'd be able to stay on his feet. Lars also got some treats and a bin of hay to munch on. After we got the nod from Dr. Haffner, we removed the Becker Sling off Lars and disassembled the tripod.
We left a blanketed Lars eating hay in the arena. Another horse was moved into the arena so he'd have company for the night.
And hey, we made a video! Alas the filming was less than perfect but we'll take it. https://www.youtube.com/watch?v=CaurVwiXe7k
If you appreciate what we do, we can always use donations for gas and to replace rescue equipment retired from service because it is too stressed to safely reuse. Sharing this post so others get to know more about us in case they need our services would also be welcomed. We're an all-volunteer 501(c)(3) nonprofit organization and all donations are tax deductible. http://washingtonsart.org/donate
Thanks for your support!